Selathial & Elizabeth Bender Potts
Lenoir-Onslow County, NC
---
Martin Bender Estate Papers, 1834 - NC Archives
---
Selathiel Potts & Wife & others - To the Court
Pet'n to Sell Negro - Filed Nov. Term 1833
State of North Carolina - Onslow County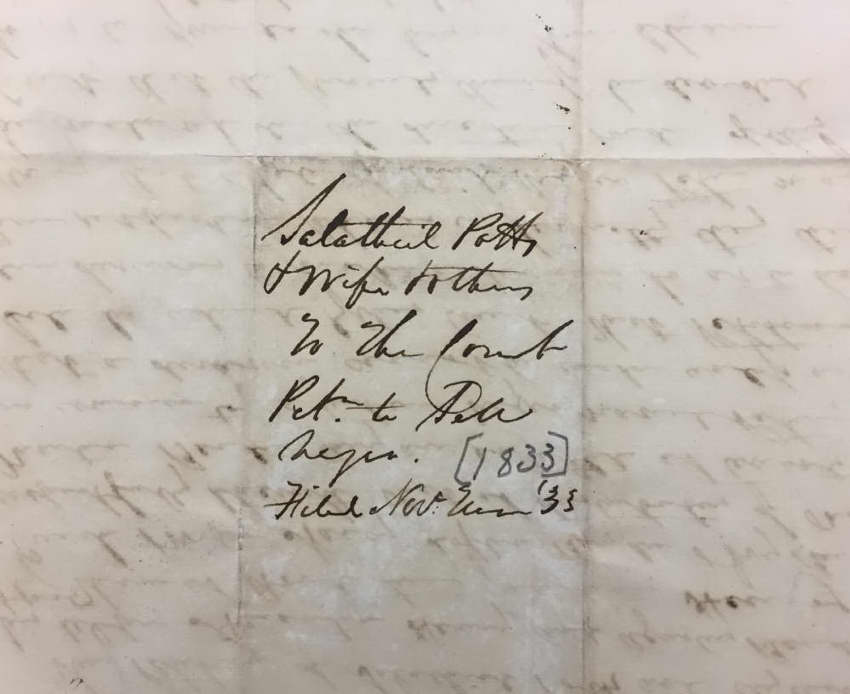 ---
We the worshipful the Justices of the Court of Pleas & Quarter Sessions for the court aforesaid. The Petition of Salathiel Potts and Elizabeth his wife, Amanda, Henry, Agustus Bender infants by Thomas Hood their guardian, Herring Creech & wife Nancy, Loftin Bender & Ivey Bender respectively sheweth that as distributees of one Martin Bender they are entitled as tenants in common to a certain Negro named Peter, that a division cannot be made unless a sale be ordered & this Court that Petitioners are desirous to make a divison so as to have their respective shares in severalty they thereof pray that a sale of said Negro Peter may be made under the direction & order of this Court, that the proceeds thereof be divided so as to give each his or her share & as in duty bound &c.
Geo. L. Altman (for Pet'rs)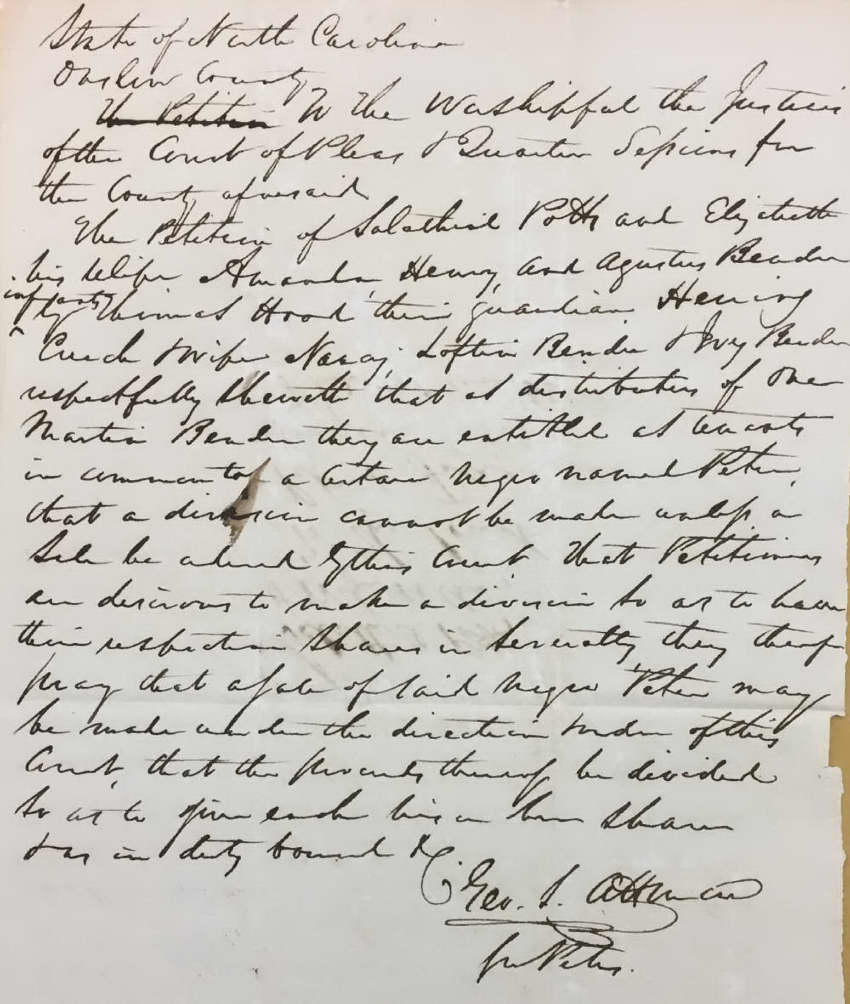 ---
Thos Hood guardian to Amanda, Henry and Agustus Bender also power of attorney for Salathiel & Elizabeth Potts (his wife), Herring Creech & wife, Nancy Loftin and Ivey Bender Heirs at Law of Martin Bender Dec'd. I want an order to sell Peter to make a division among the above Heirs.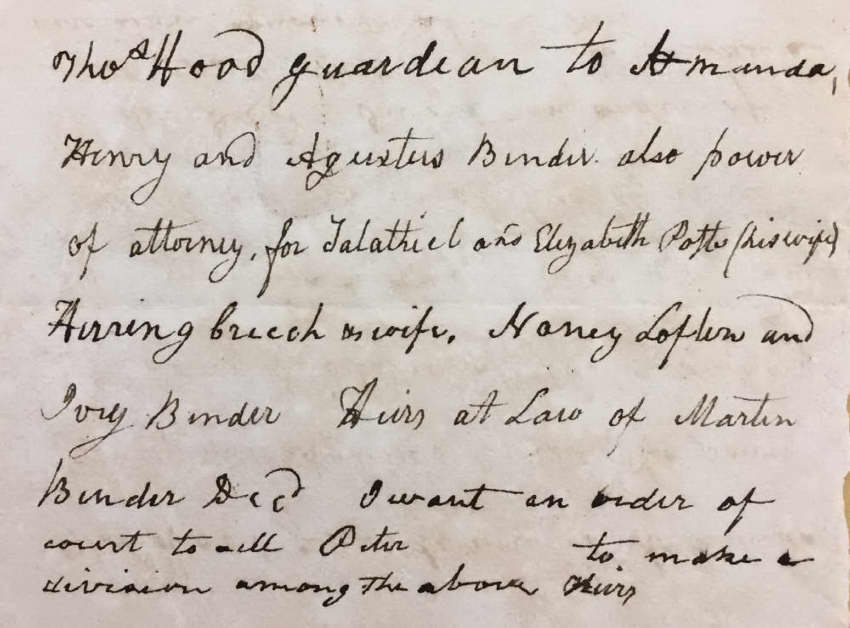 ---
(No date) - Salathiel Potts & Wife and Others - Petition to sell Negro
In this case it appearing to the satisfaction of the Court that a division of the boy (Peter) named in Pet'n (Petition) cannot be made without a sale it is ordered that prayer be granted & that Thomas Hood Adm'r of Martin Bender named by the Com'r to make said sale after due advertisement at six months credit & report to this Court his proceedings.
John Stoney Esqr, Charleston, SC.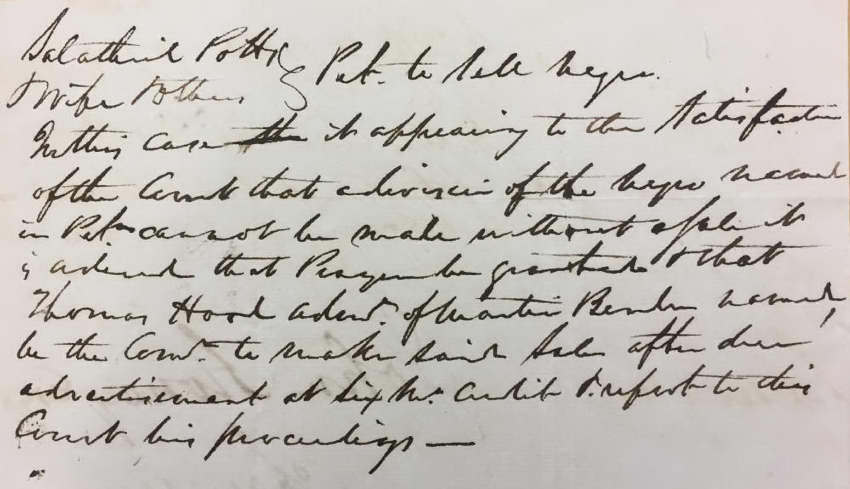 ---
Notice - That on the 1st day of January next will be sold at the court house in Onslow County a certain Negro named Peter formerly the property of John Bender Dec'd now belonging to the heirs of Martin Bender Dec'd on a credit of six months. Notes with approved securities will be required.
Thos Hood } guardian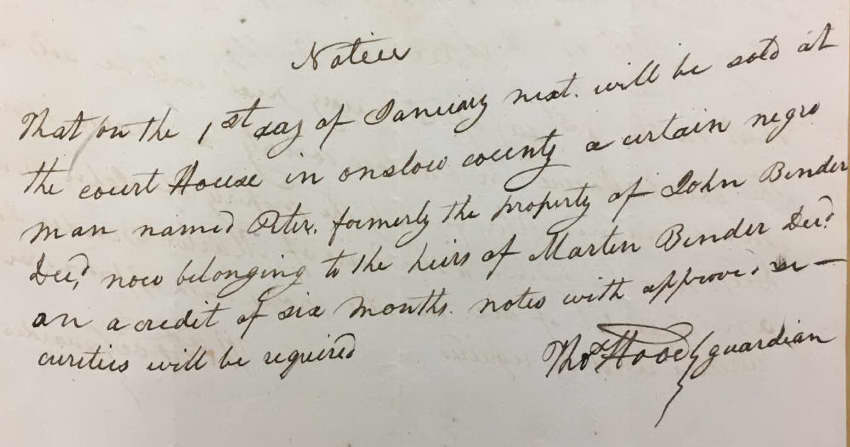 ---
Set up at the corte house on the 4th day of Nov 1833 also at the fork of road Lloys meadow and at my gate this is s true copy of the above.
John Lloyd

---
Home